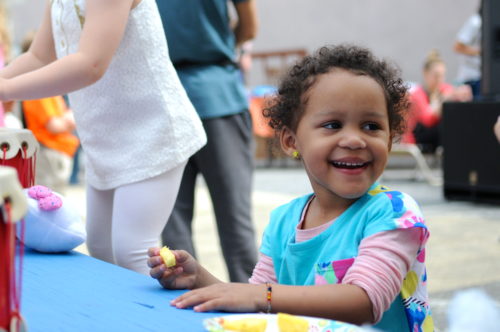 Cultivating an appreciation for our community through imaginative play
Imagine if your child could explore your favorite Athens businesses, attractions, music, and culture in a play museum designed just for them.  This is Little Athens!
Why Little Athens?
The goal of Little Athens is to bring interactive play opportunities to families so they can connect, and kids can learn and develop a sense of our unique community. Envision a little Jittery Joe's where kids can pretend to make and serve coffee, a little reBlossom Mama Baby Shop where kids can pretend to work, a little Sanford Stadium where kids can kick a field goal between little hedges, and a little Nuci's Space where kids can play instruments. All of this is possible in Little Athens.
Mobile to Mortar
Right now we are a mobile museum, and we are working toward a physical space. Our focus right now is to continue to bring interactive play experiences to children around Athens while we work toward our main goal: a permanent home for Little Athens.  Athens needs a children's museum – let's work together to make this a reality for our wonderful city.
Get Involved!
Little Athens has been incorporated as a federally recognized 501(c)3 non-profit in Athens with the goal of creating a physical children's museum space.  Our board has been working together to implement the extensive business plan and bring our community a special place for children to play and explore. Contact us if you'd like to get updates about Little Athens!